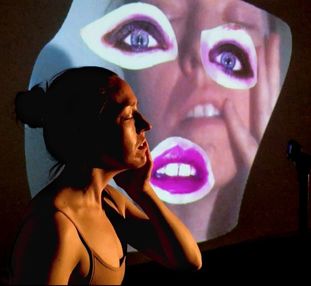 Are You Buying?
Presented by Catherine Siller
Artist Hometown:
Somerville, MA
A fashion mannequin dreams she has it all as she travels back in time through the pages of Vogue magazine—the lavish estates, designer clothes, high-end makeup, and perfumes. But the dream isn't quite what it seems. She quickly realizes she's trapped inside the magazine's glossy ads, her movements limited to the models' poses. Finding herself caught in a loop of desire and dissatisfaction, she faces a choice: escape or embrace this designer dream.
This solo performance uses live video feed, large scale projection, and hand-drawn animation to translate filmic dream tropes to the stage: dissolves, distortions, quick cuts, and strange conglomerations of characters and objects. Remixing poses and imagery from fashion ads from World World War II to the present, it links the evolution of capitalism and traditional gender roles throughout US history while questioning the role of personal agency in identity construction. This version is a work-in-progress. The final piece will premiere at Boston Cyberarts Gallery in Jamaica Plain, MA, on October 19, 2017.
About the Artist:
Described as transcendent by the Huffington Post, Catherine Siller's multi-media performances walk the line between performance art and dance. In these performances, Catherine inserts her body into digital space, performs gestures borrowed from the media, advertisements, and everyday life, and investigates how her digital doubling impacts her relationship with her physical self.
Catherine has performed nationally and internationally, most notably at Watermans Centre (London, UK), The Brick Theater (Brooklyn, NY), the Granoff Center for the Creative Arts (Providence, RI), the Ammerman Center (New London, CT), and Mobius Gallery (Cambridge, MA). Her collaboration with filmmaker Jay Craven, Ghost Theater, screened at the Experimental Media & Performing Arts Center (EMPAC) in Troy, NY, as the visual accompaniment for composer Robert Paterson's musical composition of the same title. She is the recipient of a Mellon Fellowship in Digital Media / Performance from Marlboro College (Marlboro, VT), a Somerville Artist Fellowship in Interrelated Media, and a Boston Foundation LAB Grant.
Catherine holds an MFA in Digital Media from the Rhode Island School of Design and a BA in Visual and Environmental Studies from Harvard University.
More at
catherinesiller.com
---
---
SHOWTIMES
Wednesday, July 26 — 7:00 PM —
Down Studio
​
WaterFire Arts Center
475 Valley St.
​Providence, RI 02908