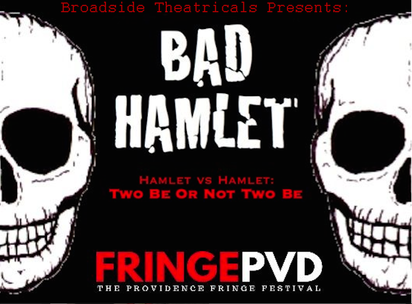 Bad Hamlet
Bad Hamlet
is an experimental performance piece adapted from Shakespeare's Hamlet by John Geoffrion, Artistic Director of the Hub Theatre of Boston. It was initially developed in 2006 as a graduate class exercise and then first produced fully in 2009 at the Capitol Fringe in Washington, DC where it was a pick of the fringe for Best Experimental Production. It explores the similarities and differences between the two published versions of Shakespeare's Hamlet: the familiar version published in the 1623 Folio, and the unauthorized "Bad" Quarto published in 1603.
The play is a condensed, stereoscopic version of Hamlet in which the two texts are performed simultaneously; sometimes overlapping, sometimes in a Shakespearean 'tennis match,' with two Hamlets, two Ophelias, two Gertrudes, two Claudii, two Polonii, two Laerteses, and the Quarto's Player and Ghost, all under an hour, performed in a minimalist setting. This production features two men playing Hamlet, and an ensemble cast of women feature as everybody else in the cast.
Bad Hamlet
, from Shakespeare's
Hamlet
, adapted by John Geoffrion
Directed by Daniel Bourque
Featuring: Ryan MacPherson, Kevin Paquette, April Singley, Isabel Dollar, Liz Adams, Dana Block
Broadside Theatricals is from Boston MA and produces new plays, newish plays, and old plays done up like they're new.
Learn more about the show:
http://www.johngeoffrion.com/bad-hamlet.html
---