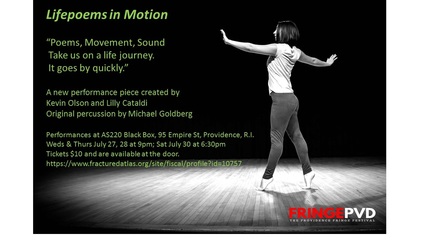 Lifepoems in Motion
"Lifepoems in Motion" is an original theater/dance performance piece created by Kevin Olson and Lilly Cataldi with original percussion by Michael Goldberg. Using poems written by members of Kevin's family, the play offers oral history through poetry, movement and percussion. This piece will be performed as part of the Providence Fringe Festival which is presented by the Wilbury Theatre Group.
Performances held at AS220 Black Box, 95 Empire Street downtown Providence, R.I. on the following dates:
Wednesday, July 27 9pm
Thursday, July 28 at 9pm
Saturday, July 30 at 6:30pm
Tickets cost $10 and are available at the door.
Web:
https://www.fracturedatlas.org/site/fiscal/profile?id=10757
Twitter: @FirstHandTheatr
PERFORMANCE ENSEMBLE:
Ophelia Fernandes
Jenna Harrington
Matt Garza
Michael Goldberg
Diego Guevara
Larry Krips
Amy Olson
Carol Pegg
Taylor Santoro
Lisa Silverberg Starr
POETRY WRITTEN BY:
Dr. Allen D. Olson
Amy Silverberg Olson
Kerry D. Olson
Kevin Olson
Shira L. Olson
Wayne C. Olson
Harold Silverberg
Robert Silverberg
Lisa Silverberg Starr
Circe Olson Woessner
Iain M. Woessner
FIRST HAND THEATRICAL
Kevin Olson established First Hand Theatrical in 2013 and has created two original scripts for the company – "Interrupting The Sermon" (presented at the Indianapolis Fringe Festival in 2015) and "This Is My Story: Mayses, 1938-1948" (presented at URI Feinstein Campus Arts and Culture in 2016). First Hand Theatrical creates original theater productions using primary source material drawn mainly from diverse cultural and social histories.
First Hand Theatrical is a sponsored project of Fractured Atlas, a non-profit arts service organization. Contributions for the charitable purposes of First Hand Theatrical must be made payable to Fractured Atlas only and are tax-deductible to the extent permitted by law
---