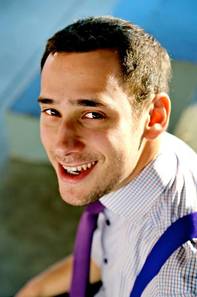 Real Magic
Featuring Danny Dubin
Artist Hometown:
Chicago, IL
​
Award-Winning Magician Danny Dubin uses a simple fortune, adventures from around the Middle East and his unique schtick to uncover awe-inspiring illusions. Audience members are stunned as volunteers' thoughts are predicted from inside of a cookie, reality shifts and inanimate objects spring to life. Real Magic is filled with crisp sleight of hand, slick comedy and engaging entertainment. Danny Dubin has performed live on television and for audiences nationwide, including the Former Queen of Iran and the Embassy of Australia.

About the Artist:
Danny Dubin performs magic nationwide, helping create memorable moments for private parties and corporate events. He performed magic live on FOX and WGN News and has been featured in numerous other publications. Dubin entertained guests at the Embassy of Australia, the World Bank, the Chicago History Museum and even performed for the Former Queen of Iran. He received the "Lance Burton Award of Excellence" at both the 2010 and 2011 World Magic Seminar in Las Vegas. Danny Dubin spent four years performing in Washington, D.C. but is happy to finally be back in his hometown Chicago!

​More at dannydubin.com
---
---
SHOWTIMES
Tuesday, July 25 — 10:00 PM — Garage
Saturday, July 29 — 7:00 PM — Garage
​
WaterFire Arts Center
475 Valley St.
​Providence, RI 02908